Talent Growth
with your
Talent Coach
Get the most out of your mentorship experience with one-on-one talent coaching
Discover Talent Coaching
Talent Coaches are intermediaries between you and your mentor. Mentees are paired 1:1 with a Plato Talent Coach who foster growth and drive value through:
Talent Coaching In Numbers

1000+

# Coaching Calls Completed

Timeline
During kickoff, you will book with two core biweekly, recurring mentors. After one month (or two calls per mentor), you will meet with your Talent Coach to discuss those calls and your goals. You'll meet again in month 3 and then in month 6. These check-in calls are vital to your continued success on the platform!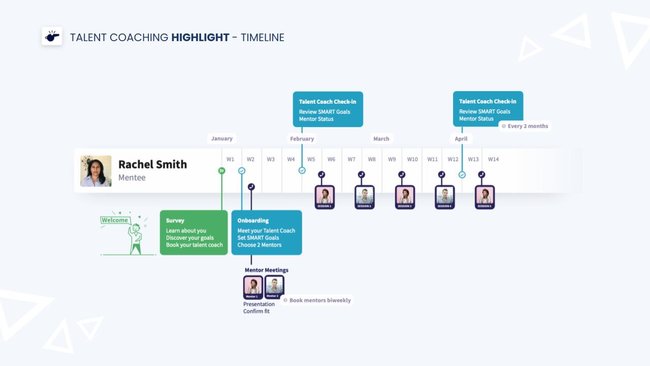 Onboard with your Talent Coach
Testimonials
"You have summarized all the milestones better than I could have imagined. Thank you so much for your great assistance through the entire journey."
"Not just the fact that I have a mentor, but also that I get this connection with you, these check-in meetings, this is definitely something I was not expecting. Just to know that I'm being taken care of, that's really awesome."
"My Talent Coach guided me on how to step out of my comfort zone and find the solutions on my own. I recommend with two hands."
FAQ
Coaching is about capitalizing on what's going well in your life as the catalyst to feeling more positive, more engaged, and more connected to those around you. Your Talent Coach will focus on clarifying your goals, discussing roadblocks, celebrating successes, and creating action plans.
The experience is grounded in personal goals: some people work on their communication or prioritization skills. Others focus on building resilience or self-compassion. Whatever it may be, your Plato Talent Coach will empower you every step of the way.
How often do I meet with my Talent Coach?
During your first coaching call, your Talent Coach will orient you to the platform and set you up with two biweekly, recurring mentors. Your second check-in call will be conducted one month to 5 weeks later. After this call, you will meet with your Talent Coach every 2-3 months.
What will my first coaching call look like?
Your first coaching call will take 30 minutes with a packed agenda. First, your Talent Coach will familiarize themselves with your background and challenges. Then, your Talent Coach will ask a series of questions to develop your challenges into SMART goals. Next, your Talent Coach will already have prepared a list of around 5 mentor matches with whom you will book two biweekly recurring sessions to start. Next, your Talent Coach will set expectations and discuss your Plato timeline. Lastly, your Talent Coach will gather communication information and schedule your next check-in call.
Do I need to prepare beforehand?
Before you book with a Talent Coach, you'll complete an onboarding survey. On this survey, you'll be asked to think of the top two challenges you would like to tackle with mentors. Add a short description, thinking particularly about a specific goal you have surrounding that challenge. During your first coaching call, your Talent Coach will already have received those challenges and will utilize coaching techniques such as powerful questions and active listening to help you develop your challenges into SMART goals. These goals can help guide your conversations with mentors.
What is the purpose of having a coach in addition to a mentor?
Mentorship can be overwhelming. Our Talent Coaches are here to provide customized support to ensure you're talking to the right mentors, about the right things, at the right time.
What else can my Talent Coach support me with?
Logistics: Your Talent Coach will be your main point of contact for any logistical questions you may have along your mentorship journey. Talent Coaches can support with scheduling, additional mentor matching, rematching, and technical support.
Accountability: Setting goals is easy. Achieving goals is hard. Talent Coaches are here to keep you accountable along the way. Through bi-monthly coaching calls and personalized contact, Talent Coaches will ensure that mentees are continuing to make progress on a goal they've committed to.
Flexibility: Talent Coaches are trained to meet mentees where they're at. Working through complex challenges? Discovering many unknown unknowns? Meeting with mentors who aren't the best fit? Talent Coaches provide personalized support to cater the program to fit every mentee's needs. They do this through active listening, thinking holistically, and rematching with new mentors if necessary.
Join mentees from companies including