Connect with
your peers

in a casual setting.
Join one of our virtual roundtables, and network with like-minded leaders.
What is a roundtable?
Each week, we organize breakfasts lunches and dinners for executive leaders. Typically, 10-15 executives from an engineering or product background, gather to discuss industry topics and other management-related issues they handle on a day-to-day basis.
We create breakout rooms for people to discuss further in smaller settings if needed.
Our Plato buddies will be here to ease the conversations and make sure everyone gets to talk.
You'll receive an Uber eats voucher to order anything you'd like to have before joining one of our roundtables.
James Kenigsberg, CTO of 2U

"Yes, the first dinner went well. I was impressed with the strong facilitation. I'm a stickler for keeping the conversation flowing and your facilitator delivered a clinic."
Leah's Farmer, Chief Product & Technology Officer at Tourlane Assistant
"Overall she really enjoyed the first one. Would go again, if they offered more in her time zones (breakfasts and lunches)"
Cody Hutz, Head of Engineering at 7shifts
"Definitely enjoyed it. I love the organic conversations that happen as a small group gets to discuss some of the problems they are facing and hearing how other people and companies are dealing with similar problems. Lots of very neat tools to investigate, and changes to experiment with"
Why join one of our events?
Meet like-minded leaders who are at a similar stage of development
Network with peers and exchange best practices
Share your struggles and interrogations in an intimate setting
Take some distance on your daily tasks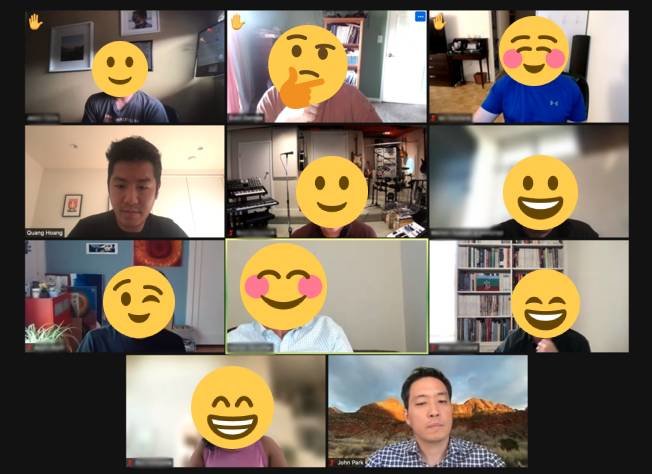 We've hidden our guests faces, but you get the idea: we learn and have fun at the same time!
Schedule
We'll spend the first 10 min doing intros, and then we'll break into smaller discussion groups for 30 to 45 min (so you'll be chatting with 4 or 5 other senior leaders).
One of the guests will be the facilitator so that the group stays on topic, and the topic is always related to the relevant field (engineering, product, L&D) leadership (for example, "How are you maintaining high morale and avoiding team burnout?" or "As a CTO/VP, what's been your biggest challenge over the last few months?").
May 4th | (Women In Tech - 9:00 am PT)
Taking place at 9:00 am PT, for those identifying as women, in the tech industry
May 4th | (Product Leaders - Dinner 5 pm PT)
A product-centric dinner for executive product leaders
May 11th | (Breakfast - 9 am PT)
Taking place at 9 am PT, for executive technology leaders
May 11th | (Dinner - 5 pm PT)
Taking place at 5 pm PT, for our executive technology leaders
May 18th | (L&D Leaders - Dinner 5 pm PT)
Taking place at 5 pm PT, for executive L&D leaders
May 25th | (Breakfast - 9 am PT)
Taking place at 9 am PT, for our executive technology leaders
May 25th | (Dinner - 5 pm PT)
Taking place at 5 pm PT, for our executive technology leaders
Past attendees include leaders from companies like: