September 13–15, 2022 | San Mateo, California
Take Your Skills to New Heights at Elevate
Join us for Plato Elevate at SaaStr Annual 2022—the premier conference for engineering and product professionals. Featuring exclusive sessions from industry leaders, interactive roundtables, and networking opportunities, Elevate will inspire attendees to reach new heights, personally and professionally.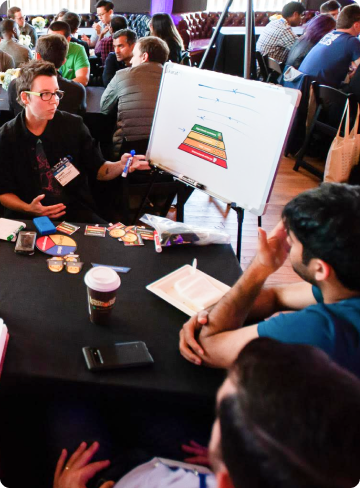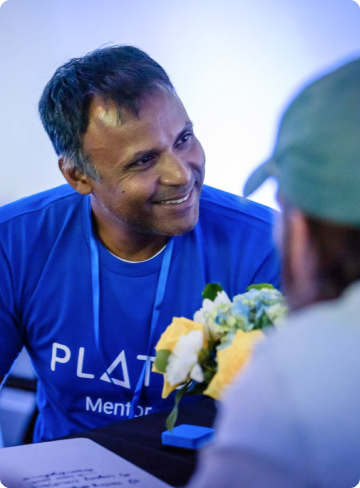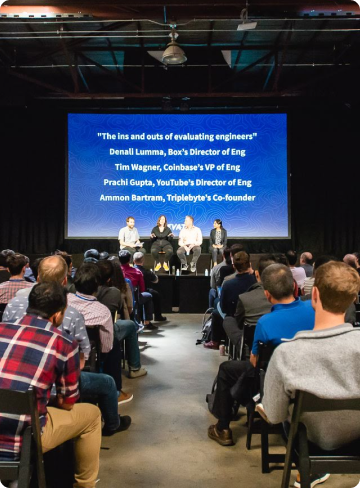 The Premier Conference for Engineering and Product Professionals
Elevate is a three-day conference taking place within SaaStr Annual 2022. Bringing together the most dynamic engineering and product professionals from the Silicon Valley and beyond, Elevate provides attendees with the opportunity to share, learn, and grow through conversation, mentorship, and networking.
Discover the Power of Mentorship
Powered by a curated community of 1,600+ of the best engineering and product leaders, Plato is the mentorship platform for engineering and product teams. We believe that collective knowledge should be accessible to everyone and we're on a mission to make mentorship available to all. Visit the Plato website to learn more about the power of mentorship for individuals and teams.
Don't Miss Elevate at SaaStr Annual 2022
Join 1,000+ of your peers in engineering and product and discover:

Featuring leaders changing the landscape of our industry sharing their expertise, experience, and best practices
Explore new ideas and challenge the status quo through engaging conversations with peers from top tech companies

Opportunities to connect with global peers and industry leaders, including Plato's community of mentors



CTO & President of Technology










Director, Developer Productivity Engineering






Head of Core Product Engineering


Program Management & Technology Programs Head of Technical










More Speakers
Announced Weekly

Software Engineering Manager


Senior Engineering Manager


Senior Director of Product Management


Director, Identity and Access






Director of Platform Engineering


Senior Director of Engineering





Senior Vice President, Office of the CTO




VP of Software Engineering


Director, Program Management


Director, Software Engineering

Senior Engineering Leader


Sr Director of Engineering




VP of Software Engineering


More Hosts Announced Weekly
The schedule for Elevate at SaaStr Annual is in the process of being finalized. Topics, speakers and times will be updated shortly.
Day One | September 13, 2022 | SaaStr Annual Sessions
Badge Pick-Up at the Crown Plaza (Satellite Registration)
Registration and Badge Pick-Up at San Mateo County Events Center
Mentorship and Networking
Downtown San Mateo Evening Events
Day Two | September 14, 2022 | Plato Sessions
Registration and Badge Pick-Up at San Mateo County Events Center
Plato Sessions – Detailed Schedule To Be Released Soon
This is the title of the speaking event
This is the person speaker | role title @ company
Day Three | September 15, 2022 | Plato Roundtables
Registration and Badge Pick-Up at San Mateo County Events Center
See What Attendees Have to Say About Elevate

Elevate is an amazing networking opportunity! The conversations I had were extremely valuable.
Chief Technology Officer & Executive Vice President of Engineering
LiveRamp

I just loved Elevate! From the communications leading up to the event to D-Day, it made for an incredible experience and left me with lots of great takeaways.
Head of Development
Square

Elevate was great! I loved the panels I attended, the speakers were relatable and touched upon topics I really care about.
Chief Technology Officer
Toptal
The health and safety of Elevate attendees are our top priority. Plato has been working closely with SaaStr, in conjunction with the San Mateo Country and SaaStr's dedicated Health and Safety Team, to be able to offer this event in person.
As COVID-19 and international health and safety regulations evolve, these guidelines will be adapted and updated to have the safest event possible.
#1. Required: Approved vaccine verification. You must have either received a (1) booster, (2) received a vaccination within the last 270 days, or (3) received a vaccination plus a recovery certificate.
#2.Required: Proof of negative COVID-19 test within 72 hours for all in-person attendees. Attendees may test on-site, but it will take an additional 30-45 minutes+.
#3. Mandatory Temperature checks each day of the event. Exceptions to the above requirements will not be made.
All Elevate at SaaStr Annual attendees must adhere to the health and safety guidelines outlined below:
Additional Health and Safety InformationAll attendees (regardless of point of origin) must have a COVID-19 vaccination certificate showing that they have been fully vaccinated.
You must have either received a (1) booster, or (2) a first or second vaccination dose within the last 270 days, or (3) received a first or second vaccination plus a recovery certificate. The following vaccinations are acceptable: AstraZeneca, Covaxin, Covishield, Covovax, Janssen/ Johnson & Johnson, Moderna (SpikeVax), Nuvavoid (Novavax), Pfizer-BioNTech (Comirnaty), Sinopharm (BIBP), Sinovac.
Following the US CDC Guidelines as of 5.25.22, the previous 14-day waiting period is no longer necessary for boosters - meaning attendees can enter regardless of the date when their booster was received. Other vaccines are accepted only if the most recent booster dose is one of the above-listed vaccines.
An Official Certificate of Recovery from COVID-19 is only valid if issued within 180 days prior to arrival (March 15, 2022). We recommend bringing your physical vaccination card or vaccination documentation when traveling to Elevate at SaaStr Annual.
Got Your Ticket Already?
Whether you're coming from the U.S. or traveling internationally, all attendees must show proof of a negative COVID-19 test within 72 hours of entering the event space. This is in addition to showing proof of vaccine and both are required for entry into Elevate at SaaStr Annual.
Accepted negative tests include Antigen (Rapid Antigen Detection Test) or PCRas. You can use an at-home COVID-19 rapid test if you take a photo of your I.D., time-stamp, and result to show at registration. This test from eMed is acceptable.
Limited rapid testing will be available at the Elevate at SaaStr Annual Registration, but it does take 15-minutes per person. Plan to wait at least 30-45+ minutes or more to be tested at these locations. Those that test positive for COVID-19 will not be permitted entry.
Everyone attending Elevate at SaaStr Annual will be required to undergo a passive temperature check before entry. Anyone with a temperature above 100.4F will not be permitted to attend.
An Outdoor/ Indoor Gathering: Elevate at SaaStr Annual is an outdoor/indoor event to promote better airflow and the continued safety of attendees. This event utilizes tents and the open-air space of the 40+ acre venue, as well as the open-air buildings on the campus. Acceptable face coverings, such as masks are suggested in our limited indoor spaces.
Increased Sanitization and Hand Washing: The event space has implemented increased hand sanitation stations and hand washing stations. Those in attendance will be expected to frequently wash and sanitize their hands. Frequent wipe-downs of all common touch areas each day, including doorknobs, lecterns, microphones, counters, trash receptacles, screens, water stations, registration tables, keynote chairs, and in and around the bathroom areas, will also be implemented.
Increased Medical Personnel and Security: Will be on-site to handle medical emergencies and oversee event medical operations.
Physical Distancing: In addition to hosting the event outdoors/indoors to promote greater comfort amongst attendees and free airflow, SaaStr has adjusted the event's layouts and guidelines to encourage physical distancing between attendees. The event will spread attendees out via additional stages, seating, and working stations.
Not Feeling Well? For the health and safety of all our attendees, if you have any flu-like symptoms within the last 2-weeks prior to the event (fever and a cough, sore throat, runny or stuffy nose) or symptoms related to COVID-19, you will not be allowed entry into Elevate at SaaStr Annual 2022. We are unable to make any exceptions. If sickness prevents you from traveling and attending, please contact the Elevate at SaaStr Annual Team at annual@saastrinc.com to update your travel plans.

September 14–15, 2022
San Mateo County Event Center
San Mateo, California